NCSH 400 Fire Prevention & Life Safety
Oct. 1-5, 2018 | 8:00 am-4:30 pm | Johnston RI | $925

Course Description: This 5 day training course, developed and taught by Keene State College adjunct faculty member Tony Gomes (pictured), is specifically intended for safety professionals, risk managers, safety committee members, EH&S managers, fire service professionals, vendors and those who wish to broaden their education to include fire prevention and life safety.
The course will provide a comprehensive working knowledge of fire prevention and life safety in the workplace. Training covers aspects of fire anatomy and behavior, characteristics of flammable and combustible materials, fire protection in buildings, codes and regulations, fire extinguishing and detection systems, emergency planning, evacuation and emergency action plans. Tabletop exercises, demonstrations and scope of required plans and programs are included.
Also earned is a certificate from the FEMA Emergency Management Institute in Basic Incident Command (course ICS-100). The ICS-100component will expose the student to the Incident Command System utilized during workplace emergencies and will educate participants, who are industry personnel, as to their function and position in the system.
OSHA 7105 Introduction to Evacuation & Emergency Planning
Included on the final day (5th of 5) to round out the learning experience.
Course Description: Evacuation and emergency planning focuses on OSHA requirements for emergency action plans and fire protection plans. Preparing for emergencies is a basic principle of workplace safety and health. Participants will learn: (1) reasons for emergency action plans and fire prevention plans and when they are required for a workplace; (2) elements of a good evacuation plan; and (3) features of design and maintenance of good exit routes. The optional session for this course will focus on assessment of risk for terrorist attack and how to utilize OSHA's two matrices, Evacuation Planning and Fire and Explosion, as tools in planning for emergencies.
Registration Form  | View Tony's bio
Earn a Safety & Health Specialist Certificate in Fire Prevention & Life Safety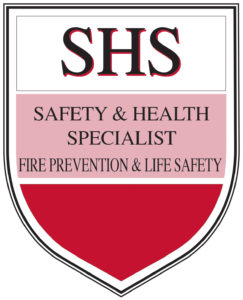 The NCSH 400 Fire Prevention and Life Safety course is the cornerstone of the Safety & Health Specialist in Fire Prevention & Life Safety. Listed below are the core and elective requirements for the new program.
For information on the Safety & Health Specialist program click here — to  enroll in this program, visit our certificate program click here.
CORE (7 required)
400 Fire Prevention & Life Safety
511 S&H Standards for General Industry
2015 Hazardous Materials
2225 Respiratory Protection
3095 Electrical Standards
7120 Intro to Combustible Dust Hazards
7500 Safety & Health Management
ELECTIVES (26 training hours required)
521 Guide to Industrial Hygiene
7115 Lock-Out, Tag-Out
7200 Bloodborne Pathogen Exposure
7205 Health Hazard Awareness
7300 Permit-Required, Confined-Space Awareness
7500 Safety & Health Management
7505 Intro to Accident Investigation
7600 Disaster Site Worker
7845 Recordkeeping Rule
442 Industrial Ventilation
443 Radiation Protection
470 Electrical Safe Work Practices
and Update to NFPA 70E®