Our History

"
The OSHA Training Institute Education Centers are authorized by the Occupational Safety and Health Administration to provide innovative and effective safety and health training to improve the safety culture and performance in the workplace.

"  OSHA.gov

Keene State College was an early adopter of OSHA's mission to situate convenient, accessible and affordable OSHA education in each region of the United State through a contractual, unfunded relationship with academic institutions, authorized in 1994. The OTI Education Center strives to support our New England workforce and employers by providing classroom locations in over 25 comfortable classrooms in six states on an "open enrollment" basis, and on-site customized training opportunities following the learning objectives established by the Directorate of Training and Education, OSHA.
Our Mission
In keeping with OSHA's mission statement  "to assure, so far as possible, every working man and woman in the Nation safe and healthful working conditions," OTIEC Region 1 seeks to nurture a cohesive community of safety and health professionals, working towards safer workplace environments in New England through OSHA education; we believe safety is strengthened through knowledge.
Our History
1994: Keene State College enters into a cooperative agreement with the US Department of Labor OSHA to form the OSHA Training Institute Education Center, Region 1 (New England)
2009: OSHA Traini

ng Institute Education Center enters into an agreement with OSHA Region 1 establishing an Alliance with New England OSHA Region 1 and Keene State College OTIEC to further enhance a collaborative relationship to foster safer and more healthful American workplaces.
2011: Region 1 OSHA and Keene State College renew the Alliance originally established in 2009. The Alliance was signed by Marthe Kent, Regional Administrator for Region 1 OSHA/NewEngland, and Dr. Melinda Treadwell, Dean of the School of Professional and Graduate Studies, Keene State College.
2013: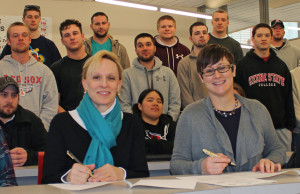 Region 1 OSHA and Keene State College continue the Alliance renewed in 2011. The Alliance was signed by Rose Ohar (left), Director of the OSHA Concord NH Area Office, and Dr. Melinda Treadwell, Dean of the School of Professional and Graduate Studies, Keene State College, as Keene State College Safety and Occupational Heath Applied Science majors look on.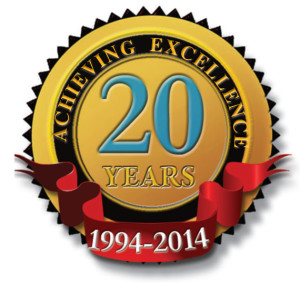 2014: OTIEC Region 1 celebrates twenty years serving over 5,000 New England businesses, with quality OSHA safety and health educational opportunities and certificate programs.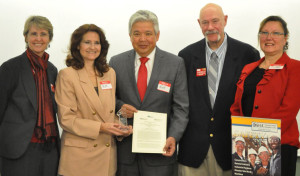 2015: Region 1 OSHA and Keene State College again renew the Alliance. This Alliance solidifies the commitment of OSHA Region 1 and Keene's OSHA Education Center to work together closely to provide information, guidance, and access to training resources that help protect the health and safety of workers, and to promote the reduction and prevention of workplace hazards. In the photo at the left: Dr. Rebecca Lytle KSC Dean of Professional and Graduate Studies, Kim Stille OSHA Region 1 Administrator, Dr. Walter Zakahi KSC Provost, Dr. Larry McDonald Dept. Chair/Professor, Safety and Occupational Health Applied Sciences, Diane Malachowski Director of OTIEC Region 1.