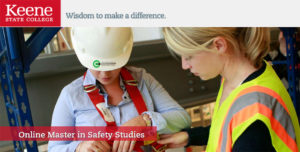 Keene State College is pleased to announce the introduction of a new Online Master's in Safety Studies, which will begin on August 27 with the start of the Fall 2018 semester.
Continuing your education at Keene State will expand your career options and enhance your earning potential. In fact, the National Safety Council recently published a salary survey that highlighted a number of important industry statistics. It's clear, through education and experience, the newly updated Online Master's in Safety Studies will help new and current safety experts get ahead professionally and financially.
This online program is now accessible fully online and will help you build and hone the skills needed to revisit fundamental skills such as anticipate, evaluate, and control hazards within the work setting to protect the health and safety of employees, customers, and others impacted by the surroundings, and build systems and processes to increase personal and program effectiveness.
Get ready to engage in a M.S. program with a proven track record, a mix of courses, and a personalized plan of study that shows you have the knowledge, skills, and dispositions of seasoned safety and health professionals.
Program highlights:
The 36-credit M.S. degree program is offered fully online.
Courses offered during fall, spring, and summer sessions.
Students may work full-time while completing the program in one, two, or three years.
Courses taught by faculty who are passionate about worker safety and health and bring extensive experience from their field to the class.
Learn at your own pace from virtually anywhere.
Many companies offer tuition reimbursement programs. Ask your employer for details.
The Online Master's in Safety Studies begins this fall. I invite you to apply today and take the step to take your career further. Best Wishes and look me up at the ASSE National Conference in San Antonio!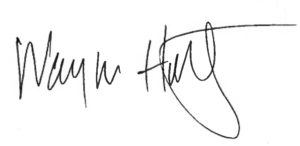 Wayne Hartz, PhD, CSP
Department Chair
Safety and Occupational Health Applied Sciences
Keene State College